1912 TEDDY ROOSEVELT Type-1 Bull Moose Campaign Photo PSA DNA LOA COA Provenance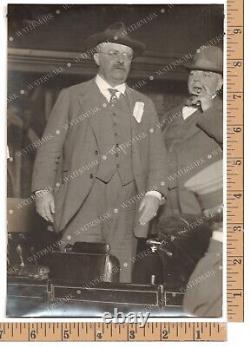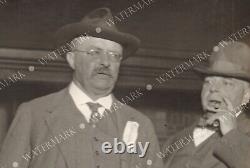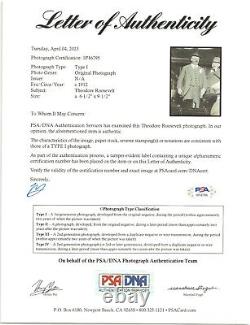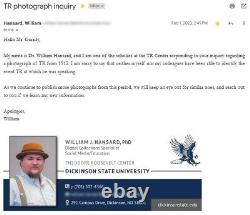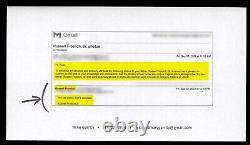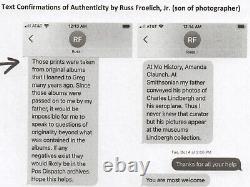 1912 Rare Authentic Original One-of-a-Kind (OOAK) Real B&W Photo of President Theodore "Teddy" Roosevelt photographed in 1912 (per TR Presidential Library researcher) by famous photojournalist, Russell Froelich, Sr. Roosevelt has a "Progressive" ribbon visible in his vest pocket and he is standing in the back of a convertible campaign limousine with a chauffer seated in the driver seat. He is speaking to a heavy, cigar toting man to his left which might have been a local politician or a member of his staff. Republican insurgents were determined to prevent Taft's renomination in 1912. They found their leader in Roosevelt who made a whirlwind campaign for the presidential nomination in the winter and spring of 1912.
Roosevelt swept the presidential primaries, even in Taft's own state of Ohio, but Taft and conservative Republicans controlled powerful state organizations and the Republican National Committee (RNC) so they were able to nominate Taft by a narrow margin. Convinced that the bosses had stolen the nomination from him, Roosevelt led his followers out of the Republican convention. In August they organized the Progressive ("Bull Moose") Party and named Roosevelt to lead the third-party cause.
Hiram Johnson, the reform Republican governor of California, became Roosevelt's running mate. On October 14, 1912, while arriving at a campaign event in Milwaukee, Wisconsin, Roosevelt was shot from seven feet away in front of the Gilpatrick Hotel by a delusional saloonkeeper named John Flammang Schrank, who believed that the ghost of assassinated president William McKinley had directed him to kill Roosevelt.
The bullet lodged in his chest after penetrating his steel eyeglass case and passing through a 50-page-thick single-folded copy of the speech titled "Progressive Cause Greater Than Any Individual", which he was carrying in his jacket. When asked if the shooting would affect his election campaign, Roosevelt said to the reporter I'm fit as a bull moose. The bull moose became a symbol of both Roosevelt and the Progressive Party, and it often was referred to as simply the Bull Moose Party.
He spent two weeks recuperating before returning to the campaign trail. Roosevelt won 4.1 million votes (27%), compared to Taft's 3.5 million (23%) and Wilson's gained 6.3 million (42%). Wilson scored a massive landslide in the Electoral College, with 435 electoral votes, and was inaugurated into office, succeeding Roosevelt. Authentication Documents Included with Order. Authenticated as a Type 1 Original photo by PSA/DNA (Certificate # 1P16795) which will be included with order. This original photo has been out of the public domain until now. The photo is NOT SIGNED. Pre-owned, originally collected with corner holders in the photographer's scrapbook. Reverse side of print has remnants of black scrapbook paper where previously taped.
Image is in Excellent Condition with no flaws. Museum Quality ready for Framing, Archiving, Display or Scanning for Resale. Since this is a photograph which can be scanned in high resolution for resale, repurposing or distribution online, the original is not returnable. For corporate or organizational net-30 A/P policies, we can accommodate. Louis region for the city's newspaper outlets from 1911 to the 1950s, helped the war effort in WWI with aerial mapping, was a color photography innovator and even invented a monoplane.
American entry into WWI led Froelich to put his talents and skills to wartime use. He began taking aerial photographs from wing-mounted cameras that he improvised to fit given situations and flight conditions, helping the US Army Signal Corps develop terrain maps of Europe. After the War, Froelich worked as a beat photographer for St. Louis newspapers, including the St. Louis Globe-Democrat, and the St.
He eventually managed the photography team which gave him access to a wide range of subject matter and the ability to experiment with action photography and the evolution of color techniques. This item is in the category "Collectibles\Historical Memorabilia\Political\US\Presidents & First Ladies". The seller is "goodchoice" and is located in this country: US. This item can be shipped worldwide.
President: Theodore Roosevelt
Type: Photograph
Term in Office: 1909-13
Year: 1912
Signed: No
First Lady: Edith Roosevelt
Theme: Political
Material: Paper
Country/Region: United States
Country/Region of Manufacture: United States