Historic Cap Anson Signed Autographed 1918 Contract PSA DNA COA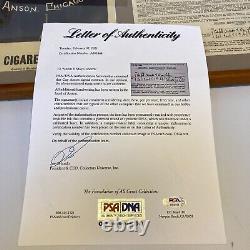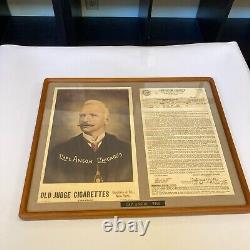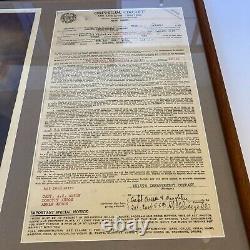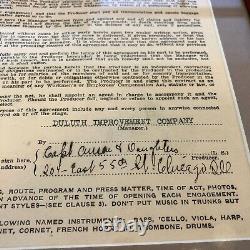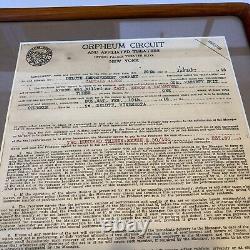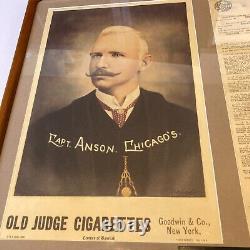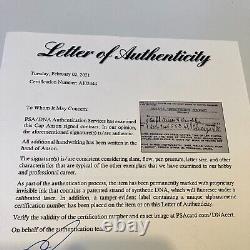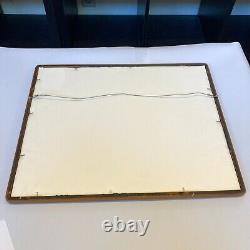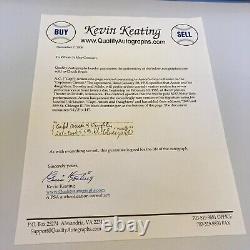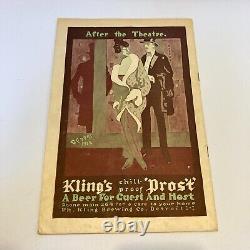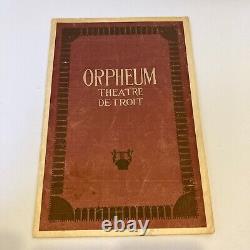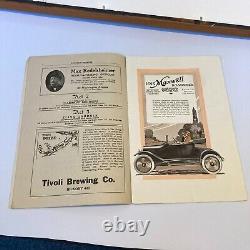 Try as we might, there is no finer writing, research or scholarship to be done on Cap Anson's theatrical exploits than Robert H. Schaefer's SABR article Anson in Greasepaint: The Vaudeville Career of Adrian C. The piece thoroughly recounts how Anson had his ups and downs in a variety of business ventures after retiring from baseball, and how he turned to the vaudeville stage out of financial desperation, yet ultimately became one of baseball's most successful thespians. Tremendous detail is given to the second phase of his vaudeville career, when Pop's show featured daughters Adele and Dorothy, and when the offered contract was signed. Dated January 30, 1918, it measures 8x14 and displays EX condition with a bold signature.
The document is housed (along with a 1990 Old Judge print) within a 17x21 frame, and then accompanied by an earlier 1914 program from the Orpheum Theatre. See below for a lengthy excerpt from the aforementioned article. Article Excerpt: At the end of the 1915 vaudeville season, Anson signed on with the B.
Now he had finally made the big time. It also marked the end of his career as a single. " "Old Cap Anson, " Variety reported on November 8, "the Adrian C.
Anson of Chicago baseball fame of the earlier days-is getting tuned up for vaudeville. Pop and his two daughters are rehearsing an act which will include a varied baseball picture display under Al Laughin's stage direction. Lardner is writing some talk for Anson.
A Chicago debut is being fixed for next fortnight. Pop's new act, Capt. Anson & Daughters, included his middle two daughters, 32-year-old Adele and 27-year-old Dorothy. His youngest daughter, Virginia Jeanette, remained at home and cared for Pop's wife, Virginia, who was in poor health. After a protracted illness, she died on February 21, 1916.
Virginia was 56 and had been married to Anson for more than forty years. Her remains were removed to Philadelphia, her hometown, for interment. The new act was divided into two parts. The first was quite formal, whereas the finale involved audience participation and capitalized on Anson's baseball ability.
Anson's entrance was heralded by a rousing rendition of "Take Me Out to the Ball Game, " written by Jack Norworth. Many years later, Dorothy Anson Dodge claimed that Anson introduced this song as a favor to Norworth while their act was appearing in Baltimore. Johnson's article at page 138. Dorothy and Adele made their entrance dressed in fur-trimmed evening gowns.
While music played softly in the background, they chanted: Cap Anson, the greatest man that baseball ever knew. / The pitcher feared him, the bleachers cheered him. /And he led the league in 1493. With this introduction, Anson made his entrance. He wore formal evening clothes and tails while delivering his monologue. He began by lauding his old teammates and rivals, comparing these stars of the past to the luminaries of the present day. To no one's great surprise, the old-timers prevailed, at least in Pop's opinion. For the finale, the trio changed into sports clothes. Anson was resplendent in his old Chicago uniform, and he wielded a silver bat presented to him by the Notre Dame alumni.
The girls hauled out a huge bag filled with papier-mâché baseballs that A. The girls now sang, We're going to take you to the game/ Where dear old Daddy won his fame. They tossed the lightweight baseballs out to members of the audience, who then pitched them to Pop. Anson assumed his famous batting stance and drove the mock baseballs all over the theater. After the supply of baseballs had been exhausted, the girls and Anson marched offstage to the tune of "Take Me Out to the Ball Game, " concluding their act.
For the next four years, Capt. Anson & Daughters criss-crossed the continent and enjoyed great success. Their last known vaudeville performance was at B. Keith's Theatre in Washington, D.
By then Adele and Dorothy were married and had families of their own. Their career on the boards came to an end, and so did Pop's. We offer the finest in Sports Memorabilia and autographs.